Greek Mezedes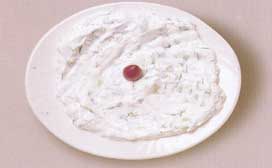 Very few people know the true Greek cuisine. This is in large part due to the fact that Greek restaurants abroad offer a small, regularly recurring selection, which scarcely stretches beyond doner kebabs, souvlakia or tzatziki. Greek food reminds of lapping waves, the seductive scent of jasmine – impressions which combine with aroma of hot olive oil to give the restaurants an exotic touch. This website is intended to arouse visitor's curiosity and whet the appetite for learning more about the wonderful Greek food.
Olive Oil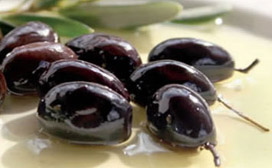 Greeks were obiously aware of the value of he olive tree from early on. The Olympian gods were swayed by an olive branch. Olive oil is a basic indredient of Greek cuisine and olives are widely considered a tasty mezes. In the past, women cooked at the domestic hearth ladero fagito, "oily food", which was different from the simple fried meat enjoyed by the men out in the open.
Ouzo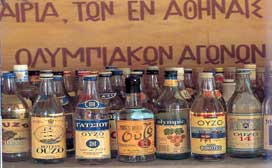 Anise-flavoured spirits have been widespread throughout the Mediterranean are probably ever since the days of Byzantine rule, and almost everywhere they enjoy the status of a national drink, raki in Turkey, sambuca in Italy to name but a few. Greeks proudly consider Ouzo as their national drink. Ouzo is based on pure alcohol;l from various sources. Though every reagion of Greece produces its own ouzo, the most famous comes from the North Aegean island of Lesbos, which has the oldest tradition of ouzo production. Taste: Ouzo Mini, Ouzo Plomariou, Ouzo Apallarina, Ouzo Barbayiannis, Ouzo 12 all of them slightly different but definitely great.
Cheese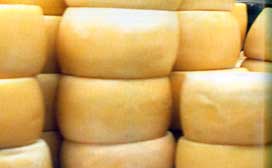 Hardly a day goes by without a piece of sheep's milk cheese appearing in some form or another on a Greek dinner table. Imagine that a Greek family enjoys tucking into an average 100kg (200 pounds). The word feta means a slice or a piece and refers to the way the curds are treated during manufacturing. Feta chesse might be the most famous of Greek cheeses, but the are many other cheese types you should try…kasseri, graviera, ladotyri, metsovone, kopanisti...